Everything you need to know about a Meeting
This page provides valuable information about all types of meetings, and will assist you in streamlining meeting procedures within your organization.
What is a Meeting?
A meeting is defined as a gathering of two or more people with the purpose of achieving a common goal, to present information, or to convey a specific message. This can be achieved through face to face or verbal interaction, virtually via webinar or video conferencing technology, or in a pre-recorded video file stored or distributed online.
Meeting Types
There are several meeting types:
Lecture (one presentation)
Seminar (typically several presentations, small audience, one day)
Conference (mid-size, one or more days)
Congress (large, several days)
Exhibition or trade show (with manned stands being visited by passers-by)
Workshop (smaller, with active participants)
Training course
Kick-off event
Regardless of the meeting type, there are several key guidelines to follow. These will assist you in conducting a better meeting, running the meeting more efficiently and to generate a more positive result.
8 keys to a successful meeting:
Be prepared
Have an agenda
Start and end on time
Have fewer (but better) meetings
Include rather than exclude attendees
Maintain the focus
Capture information and assign action items if necessary
Get feedback
There are several meeting management software tools available that can help you regardless of the meeting type.
Meeting Purpose
All meetings need a clearly define purpose. Different types of meetings will have different purposes, but without a clearly defined purpose, you will never know if your meeting achieved the desired outcome. A meeting may be in place to make a decision, to inform a group or to gain publicity for a new product. When the purpose is clearly defined, it is much easier to formalize an agenda to meet the desired outcome.
An agenda is a written plan of topics that will be addressed in a meeting, presentation or event. Regardless of the venue in which the agenda will be utilized, it is important that the agenda contain certain information. Meetingagenda.com is a free resource with lots of great information about agendas.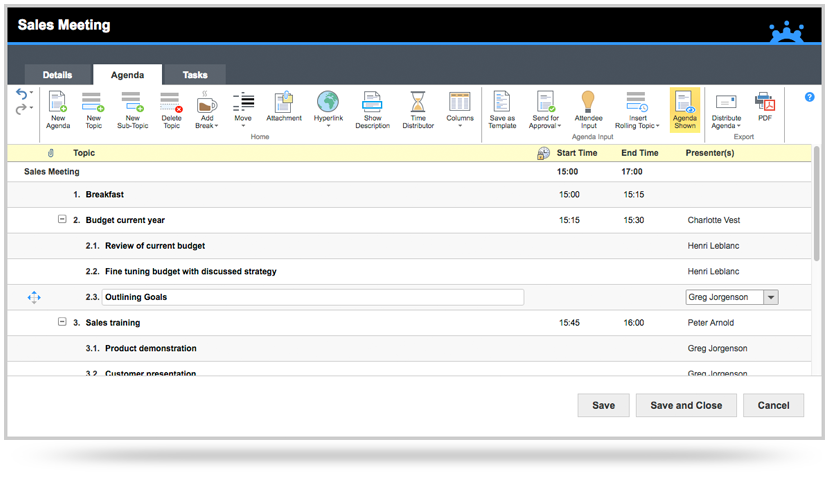 Meeting Details
All meetings have certain requirements that need to be clarified. These could be things like location, host or organizer information, attendee lists, budget constraints, seasonal dates or even celebrity presenters. When brainstorming your requirements, it may help to create a pre-meeting checklist. This will help you to take care of all of the various requirements necessary.
A pre-meeting checklist lays out the various steps involved in setting up a meeting, and covers 4 main stages.
Preliminary Preparations - Topics such as setting the date, time and location of the meeting.
Reminders and Agenda Packets – Meeting reminders, notifications and tentative agenda packets.
Arrangements – Special guests, equipment and concessions.
Final Preparations – Confirmations, final agenda packets and meeting minutes template.
Running the Meeting
When it is time to run the meeting, be sure that you have distributed the agenda to the attendees. If you prefer to make the agenda available for attendees once they arrive, give them a moment to review the agenda prior to getting started. Be sure that all presenters are present and prepared for their topics. If required, take attendance to ensure that the right attendees are present. If a vital member is absent, see if someone can take their place, or park their topic for a later meeting.
If the meeting type requires notes or a meeting minutes document, be sure to designate a note taker if you have not previously done so. When moving from one topic to the next, make sure that a conclusion or decision statement has been made, and give the note taker time to clearly notate the information. If there are any required action items, be sure to define and assign them to the respective attendee. If that attendee is not present, use an email or task management program to distribute the task. Meeting management systems like MeetingBooster have built in modules for assigning, distributing and updating task specific information from a meeting.
After the Meeting
What takes place after the meeting is as important as what takes place prior and during the meeting. If important information has been discussed and decisions have been made, it is vital that the information be distributed to the group in a timely manner. This information should be made available as a meeting minutes document. Typically the note taker will organize the information and either prepares the meeting minutes document themselves, or delegate another party to complete the document. Some organizations have a standardized meeting minutes formats, requirements or specifications.
If it is a conference or exhibition, make sure that the attendees have taken away information so they can contact the host or company if they have further questions. If it is important for the meeting organizers to capture attendee information, you may want to have a raffle or drawing to entice attendees to leave their contact information. If you have access to the technology, having an electronic registration system can pre-capture the information that you would need.
Why MeetingBooster is the best meeting software
Easy and effective tool to write an agenda
Powerful time distribution tool
Automatically distribution of agenda
Easily capture discussions and decisions
Automatically generate a formalized meeting minutes document
Distribute meeting minutes to attendees and teams
Archive meeting minutes for future access