Professional Meeting Management Software
MeetingBooster is a powerful cloud-based meeting management system that minimizes time spent while maximizing the productivity of every meeting. Fully integrated with MS Outlook, MeetingBooster provides a secure and efficient tool for scheduling, executing and archiving meetings. Meeting Booster is designed to drive accountability, streamline meeting procedures and align management goals.
How it Works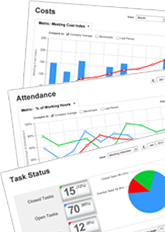 The First Truly Measurable Meetings
Dashboard not only lets you measure costs and feedback, but also gives you fresh insights into task status, meeting attendance and how attendees rate the meetings they attend.
Dashboard Analytics
Test drive a fully functional version of our meeting management suite:
Free Trial