Minutes Approval Process – made easy
MeetingBooster's minutes approval process manages all aspects of the process from requesting approval, to receiving feedback, accepting approval and updating the minutes. This makes it easy for an organization to implement a minutes approval process.
Minutes Approval in 3 steps:
1

Request Minutes Approval

MeetingBooster lets you quickly identify the users who should approve the minutes by checking the Approve Minutes check box next to the attendee's name in the initial setup of the Meeting details section. Once the meeting is adjourned, the meeting organizer sends the minutes for approval.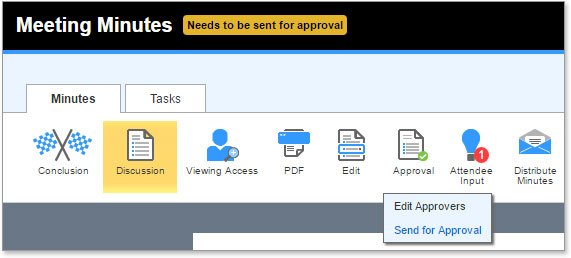 The selected minutes approvers will receive an email notification stating the request for a meeting minutes document to be reviewed and approved. When the selected approvers log into their MeetingBooster account, there is also a notification for any Pending Approvals listed in their side bar.
The approver can either approve or reject the minutes using a simple dialog.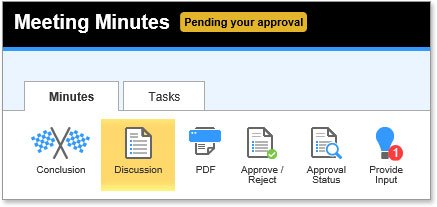 2

Receive Feedback from Approvers

The minutes originator has easy access to the minutes approvers feedback. All feedback and status are directed to the minutes originator's MeetingBooster account. Here they can review the suggestions made by the approvers.

3

Update and Approve the Final Minutes

Once the minutes creator has received and reviewed the approvers feedback, they can choose to implement any changes that were suggested. The minutes can then be re-sent for approval, and once approved, can be distributed to the desired attendees.