Agenda Topic Suggestions – Made Easy
Creating an agenda can be a daunting task. Often times meeting agenda creators struggle with what to put in the agenda, and look to the attendees for topic suggestions. If you have ever tried this, then you know it can turn into a confusing mess of emails and comments.
MeetingBooster's Agenda Topic Suggestions process makes it easy for an agenda creator to request and receive feedback from meeting attendees. MeetingBooster even handles the process of accepting or rejecting the suggestions.
Topic Suggestions in 3 Steps:
1

Request Agenda Topic Suggestions

MeetingBooster makes it easy to request agenda topic suggestions. From the Agenda ribbon, the agenda creator can select the Agenda Input icon, which initiates the process.
When attendees log in and view the meeting agenda, they are able to enter their suggestions using a simple dialog.
2

Receive Agenda Topic Suggestion from Attendees

It is important that the agenda creator has easy access to the topic suggestions. MeetingBooster organizes and manages the suggestions through the Agenda ribbon using a notification icon. The agenda creator can then choose to view the agenda topic suggestions.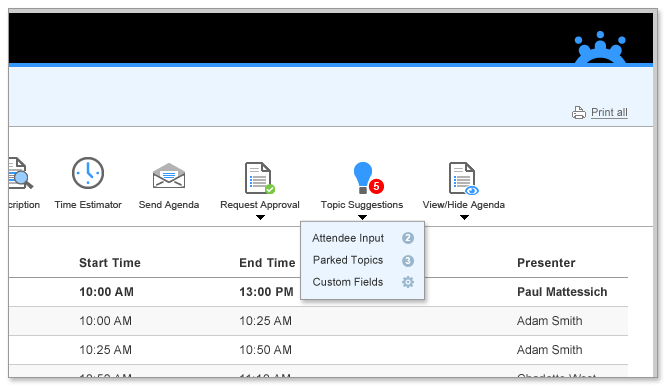 3

Accept or Reject Agenda Topic Suggestions

Once a meeting agenda creator has received and reviewed the topic suggestions, they can choose to accept or reject any topics that were suggested. The accepted suggestions will then be included in the agenda.