Meeting Agenda Software
Create meeting agendas instantly with MeetingBooster. Use our many templates to make it simple to create the agenda, easy to assign action items, and effortless to collaborate.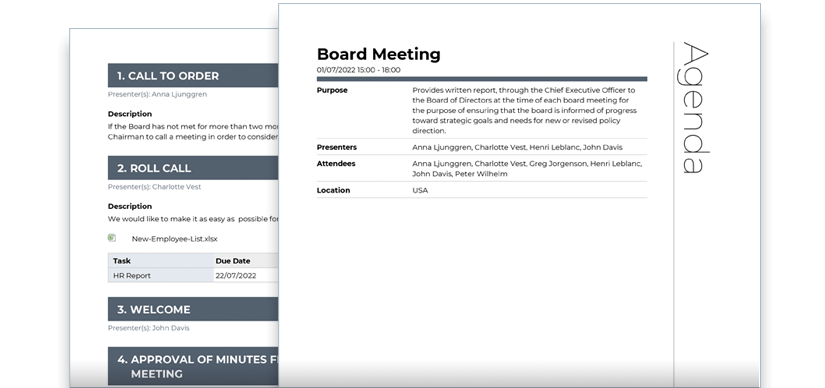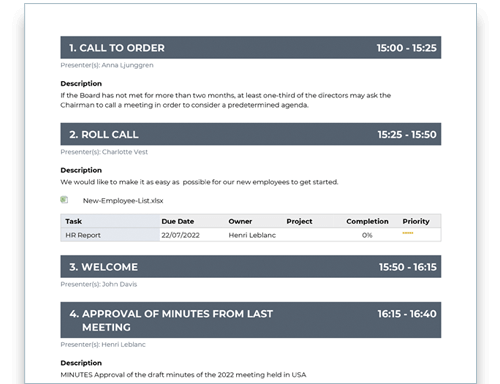 MeetingBooster includes meeting agenda software that empowers you and your team to:
MeetingBooster includes meeting agenda software that empowers you and your team to:
Experience the power of MeetingBooster in your next meeting!
Don't suffer through another meeting without MeetingBooster.
Making an Agenda with MeetingBooster
Creating an agenda with MeetingBooster is more agile, more effective and better organized than using traditional Word documents etc. Further, the style and layout of the agendas will make you look like a rockstar! Here is how to do it:
Outline The Agenda
When making an agenda you can choose a template (you can make your own templates) or start from scratch.
Simply type in a topic, create sub-topics and drag and drop topics around to change your outline. Much, much easier than using traditional text editors.
If you are collaborating with colleagues on the agenda, you can make them co-organizers, allowing them to edit the agenda and upload files.
Other attendees can submit topic suggestions that you can choose whether or not to include.
Add unfinished or parked topics from previous meetings to continue the conversation.
Attach files
Any good meeting starts with proper meeting preparation. Attach files to each topic for attendees to review. Any file format will do. Link to files on other drives such as SharePoint.
Files are embedded in the final PDF agenda. Participants can open (execute) the files directly from the agenda. This is different from what happens with many board meetings that make a snapshot of attachments, not allowing attendees to view the files in their native format.
Allocate time
Ever struggled with assigning time to topics only to have to recalculate the time slots when re-organizing the outline? The agenda software has you covered with a time distributor. Just click a button and time slots are automatically updated and distributed.
Assign tasks
Make sure that people show up prepared by assigning preparation tasks. Tasks can be associated with topics, projects and teams.
Choose to include the pre-tasks on your agenda along with outstanding tasks for your team.
Publish the agenda
The agenda software allows you to easily select styles and configure your agenda layout. Include your company's logo, outstanding tasks and minutes from the previous meeting as an appendix to the agenda.
Send the agenda to attendees via an email with the agenda PDF attached. Participants can of course login and view the agenda directly in MeetingBooster.
If you need to publish the agenda on an official website, then download the agenda PDF and upload it to your website.