Why use an agenda app
It's proven that meetings require an agenda to stay on track. Agendas should be specific to the desired purpose of the meeting or event. Programs such as MS Word have become the norm to create a meeting agenda but this is due to necessity rather than choice. Brainstorming topics for an agenda, estimating and updating times and organizing supporting content can be difficult when using MS Word.
Agenda apps such as MeetingBooster automate these processes making the creation of the agenda a much less daunting task.
Benefits of Meeting Agenda Software
Intuitive MS Office style interface
Professional meeting agenda templates
Browse past meetings agendas
Include parked topics from past meetings
Attach supporting files and reference hyperlinks
Time distributor for estimating topics times
Automatic distribution of the agenda
Online archiving
Permission system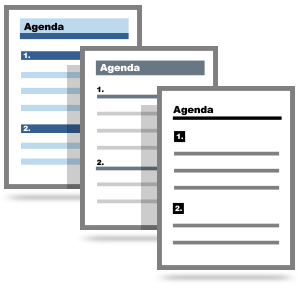 Understanding an agenda app
An agenda is a written plan of topics to be addressed during a meeting, presentation or event. Using an agenda app like MeetingBooster streamlines the agenda building process and improves meeting effectiveness through the creation of a proper agenda.
By using an agenda app, meeting hosts can easily create professional agendas, attach supporting documentation, reference hyperlinks and distribute the agenda to the respective attendees with one-click. The agenda is created and stored online making it simple for a host or co-host to edit the agenda as needed prior to the meeting. With features like automatic-distribution and archiving, using an agenda app like MeetingBooster simplifies the agenda building process, adding accountability, consistency and efficiency.
MeetingBooster agenda app
There are several agenda apps available, each with their own feature set. The problem is that except for a few minor bells and whistles, most agenda apps do not give you much more than using MS Word.
MeetingBooster is different in that it is built around a permission system; requiring user access to view meeting information. This means that your data is secure and only accessible to specified users. The permission system extends throughout the app. Users that are invited to a meeting are automatically granted access to the agenda online and receive the agenda prior to the meeting. The agenda is carried through to the meeting space, and the minutes are consolidated with the agenda, making the transfer of data seamless from start to finish.
If your organization is serious about maximizing results from your meetings, MeetingBooster agenda app is a step above the rest. With unique agenda features such as the time distributor, parked topics, automated break system as well as meeting tools and an intuitive note taking module, MeetingBooster guarantees better results. Integration to popular webinar tools like WebEx means users can run Onsite, Virtual or combo style meetings.
MeetingBooster agenda app provides a powerful feature set that will change the way you run your meetings from the creation of the agenda to the distribution of the minutes.
Why MeetingBooster is the best agenda app
Easy and effective tool to write an agenda
Powerful time distribution feature
Attach or hyperlink to supporting files
Automatic distribution and archiving of agendas
Permission system