MeetingBooster Integrates with Your Current Technology
If you are looking for an effective meeting management software, it is important that the system integrates with your existing technology.
MeetingBooster was developed with efficiency in mind. Powerful integration to popular email and calendar systems like Microsoft Outlook and Google Gmail allow users to benefit from running their meetings through MeetingBooster without a drastic change in habits.
Key Features:
Microsoft Outlook Plugin
Microsoft Outlook Calendar & Task List Synchronization
Google Gmail Widget
Google Gmail calendar synchronization
iCal Support for other Email Systems

"With the Outlook integration users are up and running instantly! We get so much more out of our meetings and no more time wasted…"
CFO, CrowdSavings.com
1

Schedule Meetings through Microsoft Outlook

With MeetingBooster's dedicated MS Outlook plugin, meetings can be scheduled and invitations distributed right from Outlook. Simply click on the MeetingBooster tab to schedule a meeting or use the quick links to add the meeting agenda, pre-meeting tasks or even start the meeting. Since users do not have to change their scheduling habits, MeetingBooster is easy to adopt into any organization with minimal training or resistance.

Having trouble finding an available time for your meeting? MeetingBooster makes it easy. No need to look at complex calendar views to find meeting availability, MeetingBooster's Conflict Resolver searches attendees calendars, identifying conflicts and suggesting alternative meeting times.
Outlook will even send out the invitations. Scheduling meetings has never been easier!
2

Schedule Meetings through Google Gmail

With Google Gmail becoming a popular email solution for many organizations and users, MeetingBooster has a powerful Widget that allows users to schedule or modify MeetingBooster meetings directly from their Google calendar.

Simply create a new meeting or update an existing meeting in your Google calendar and the Widget will take care of the rest.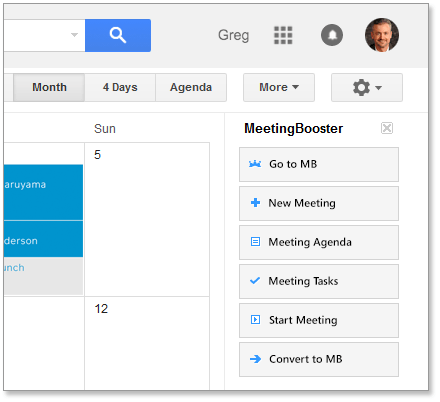 3

iCal support for Lotus Notes, Yahoo, Hotmail, and more

MeetingBooster makes it easy to invite meeting attendees regardless of the email system they are using. With support for iCal, and the accessibility to add the MeetingBooster meeting directly to your calendar, meeting organizers can rest easy and let MeetingBooster take care of the hard work.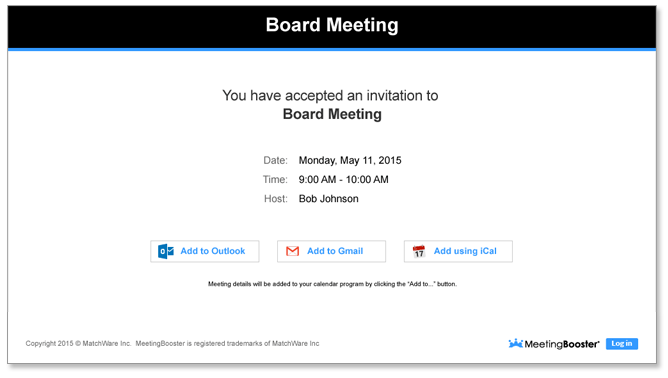 As attendees receive their invitation email, they are able to accept the meeting and add it directly to their calendar from a dedicated web page. This ensures that regardless of what email and calendar system is being used, attendees will receive their invite and can prepare for their meeting.