Curious to know which meetings were most productive or most costly? MeetingBooster's meeting analytics give you important insight into meeting data such as duration, cost, task status, attendance and meeting effectiveness.
MeetingBooster is the first and only tool that allows users to analyze data and optimize meeting activity while providing feedback to attendees and hosts. Stop wasting time and money on unproductive meetings!
Key Features:
Track and analyze meeting data
Customizable metrics for comparative analysis
Participant feedback and improvement system
Rate meeting, host and attendee effectiveness

"MeetingBooster's executive dashboards provide managers instant access to the effectiveness of meetings from preparation to follow through."
HIM Site Manager, St. Francis Health Center
Analyze Meeting Activity
There are many aspects of a meeting that should be measured, and MeetingBooster's meeting analytics are the only effective way to measure all aspects of meeting activity.
Meeting Attendance, Preparation and Costs are just a few of the reports available in MeetingBooster's Analytics system. With powerful filters and the ability to compare divisions, departments and more, users can check for correlations between meetings, determine which meetings are the most costly but the least productive, and even identify the best hosts and what makes them so effective.
MeetingBooster's analytics provide you with the important meeting data and statistics that you have been missing, while providing a blue print for how to improve your meeting processes.
Rate Meetings
MeetingBooster's rating system tracks feedback from meeting participants which is used to generate powerful dashboard reports such as Meeting Ratings, Hidden Strengths and Blind Spots. Overviewing this type of qualitative data allows for an organization to identify KPI's and continuously improve their meeting processes over time.
Monitor Tasks and Improve Accountability
Meetings lead to decisions and decisions lead to tasks. MeetingBooster makes it easy to assign and track tasks in many ways, but none are more valuable than the suite of Task Status reports available in the Analytics Dashboards.
Reports such as Task Status, Overdue Tasks, and Accountability give you valuable insight on how your team is progressing. Meeting tasks are automatically grouped and displayed based on user permissions and managers can view tasks based on owners, direct reports, divisions and even project labels.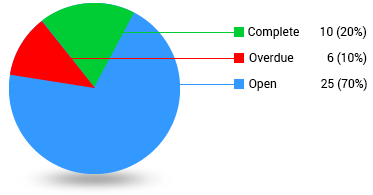 If you are looking to take control of your meeting tasks, MeetingBooster's Task Status reports make it easy to identify and correct issues that could potentially derail a project.
Feedback & Improvements
MeetingBooster's feedback system allows users to submit anonymous feedback on meetings, hosts and peers. The automated system tracks and analyzes the data which is then used in the various improvements reports.
The feedback system can be customized by choosing various scale metrics and comment options, as well as the frequency of feedback requests. Capturing accurate data from meeting participants is the only true way to truly diagnose if a problem exists.