Built-in Task Manager
Ever noticed that most meetings begin with good intentions, but don't lead to real action or results? Ideas are discussed, decisions are made, but no plan of action is made? No accountability, no results...
By assigning and distributing tasks to attendees, sending reminders and tracking progress, MeetingBooster creates accountability and drives progress, helping organizations monitor performance and consistently achieve their goals.
Assign and Distribute Tasks
Tasks are typically what drive a project forward. But the creation, definition, distribution and tracking of tasks can be a difficult process to streamline. With MeetingBooster, tasks are assigned during the meeting and task owners are notified automatically by email or online. This simplifies the process, allowing organizations to focus on progress and productivity.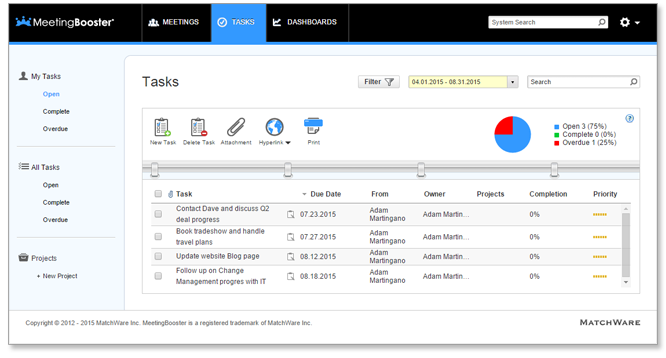 Automated Task Reminders
Once a task is assigned, responsibility for performance is transferred to the assignee. MeetingBooster's customizable automated task reminder system increases employee accountability and relieves managers of the burden of continuously following up with task owners.
Review Task Status
Status updates often present a challenge for managers. While many use follow-up telephone calls, update meetings and emails in an attempt to keep projects on track, these methods are time-consuming and inefficient.
As an effective online solution for updating and receiving task information, MeetingBooster provides managers with a highly effective tool for monitoring progress. Each MeetingBooster account holder is given his or her own Task tab, which allows each one to view his/her assigned tasks and update his/her task status from any computer with an Internet connection. Managers can get a high level overview of Task Status using the Meeting Analytics module.