Learn how to take Board Meeting Minutes
Arranging a board meeting includes many moving parts. Most importantly, a written plan of topics to be discussed must be created. Board meetings typically cover a range of topics such as board member updates, reports and operational matters. Documenting the discussions is a key factor in the company's progress and is the basis for evaluating important decisions. The use of a board meeting minutes software like MeetingBooster can help streamline these processes.
Board Meeting Minutes tips:
Designate a note taker
Confirm with members on what needs to be discussed
Document all pertinent discussions, decisions, conclusion statements and action items
Format the document to company standards or requirements
Distribute meeting minutes to designated attendees
Archive the meeting minutes for future access
If you want to streamline board meeting minutes, using a meeting minutes software like MeetingBooster can make it easy, adding accountability and consistency while increasing overall effectiveness.
Try board meeting minutes software free
Board Meeting Minutes Sample:
The meeting purpose should be the first step in the meeting management process.  Before you decide to have a meeting, ask yourself what's the objective?  If you can't define a clear purpose or objective, then you shouldn't have the meeting. Defining the purpose will assist you in creating the meeting agenda. The purpose should be listed at the top of the Agenda so that the attendees are clear on why they are there, what needs to be done, and how to know if the meeting is successful.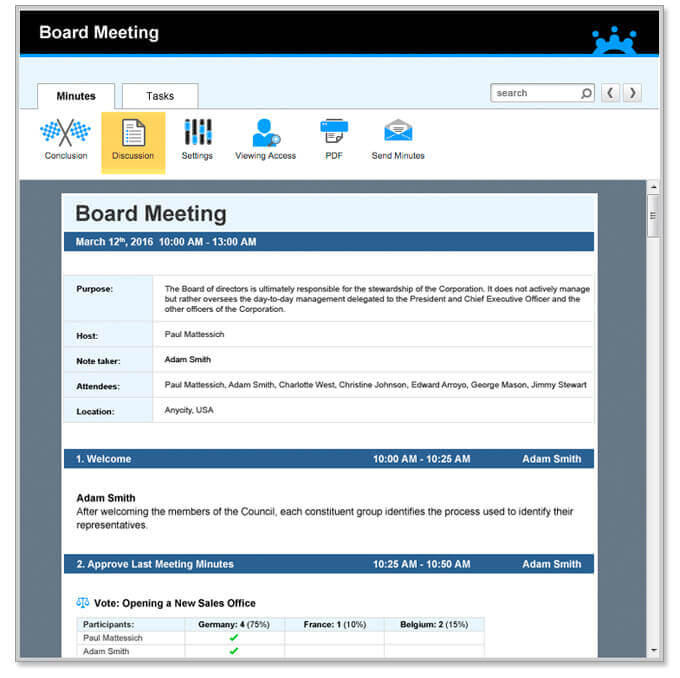 Download this board meeting minutes sample
Formatting Board Meeting Minutes
When the meeting is adjourned, it is the note takers responsibility to review and finalize the minutes. It is important that the note taker match the minutes up to the agenda topics, ensuring that each topic has been addressed. Standard programs like MS Word are cumbersome when formatting company letterhead, and the redundancy of the note taker having to re-type the captured information into a more formalized meeting minutes document is a waste of valuable time.
Meeting minutes software like MeetingBooster automates this process. Board meeting minutes are created using professional layouts, including all important information and organized in an easy to review format. Users can distribute the minutes to attendees and teams with a few clicks and the documents are archived for future access and review.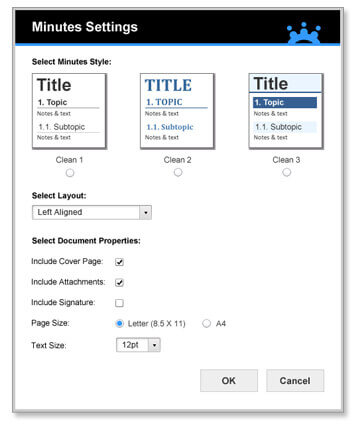 Why MeetingBooster is the best Board Meeting Minutes software
Easily capture discussions and decisions
Automatically generate a formalized meeting minutes document
Distribute meeting minutes to attendees and teams
Archive meeting minutes for future access